About Tri-State Mini Maker Faire, 211 Indian Mountain Road:
Indian Mountain School (IMS) and The Hotchkiss School are co-hosting the 2016 Tri-State Mini Maker Faire at the Main Indian Mountain School campus at 211 Indian Mountain Road. Mini Maker Faires provide our community with a forum for creativity and conversation and feature science, technology, art and design. IMS and Hotchkiss have teamed up to include a day full of exhibits and activities that will challenge and delight participants of all ages. The Faire is FREE and open to the public.
Parking at the Tri-State Mini Maker Faire:
From the center of Lakeville at the intersection with Route 41 South, stay on Route 44 west (about 1 1/2 miles) and take the first left heading south onto Indian Mountain Road. Follow straight through the blinking light at Interlaken Road. The school is located one mile up on the right. There are 4 driveways into the Indian Mountain School Main campus. The Student Center and Tri-State Mini Maker Faire are at the end of the first driveway.
You may also park using the fourth Indian Mountain School driveway on the right (west) side of Indian Mountain Road. At the end of that drive, you will be able to follow signs to the rear of the Student Center, which faces west toward a view of Indian Mountain and away from the road. Signs will guide you.
About Maker Faire:
Maker Faire is the Greatest Show (and Tell) on Earth—a family-friendly showcase of invention, creativity and resourcefulness, and a celebration of the Maker Movement. It's a place where people show what they are making, and share what they are learning.
Makers range from tech enthusiasts to crafters to homesteaders to scientists to garage tinkerers. They are of all ages and backgrounds. The aim of Maker Faire is to entertain, inform, connect and grow this community.

The original Maker Faire event was held in San Mateo, CA and in 2015 celebrated its tenth annual show with some 1100+ makers and 145,000 people in attendance. World Maker Faire New York, the other flagship event, has grown in four years to 600+ makers and 80,000 attendees. Detroit, Kansas City, Atlanta, Milwaukee, Orlando, Pittsburgh, San Diego, Silver Spring, Ottawa, Lisbon, Paris, Rome, Berlin, Newcastle, Hannover, Oslo, Trondheim, Seoul, Singapore, Taipei, Tokyo, and Shenzhen are the home of larger-scale, "featured" Maker Faires. In addition, over 120 community-driven, independently organized Mini Maker Faires are now being produced around the United States and the world—including right here in Tri-State.
Maker Faire is supported by Make: magazine and Maker Media.
About Make: Magazine: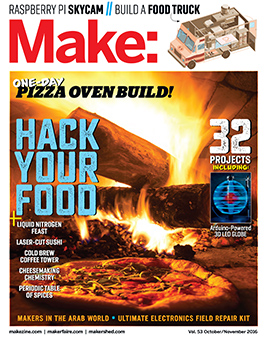 Make: is the first magazine devoted entirely to Do-It-Yourself (DIY) technology projects.
Make: unites, inspires, informs, and entertains a growing community of resourceful people who undertake amazing projects in their backyards, basements, and garages.
Make: celebrates your right to tweak, hack, and bend any technology to your will.
Besides the magazine and the faire, Make:
and Maker Media is: